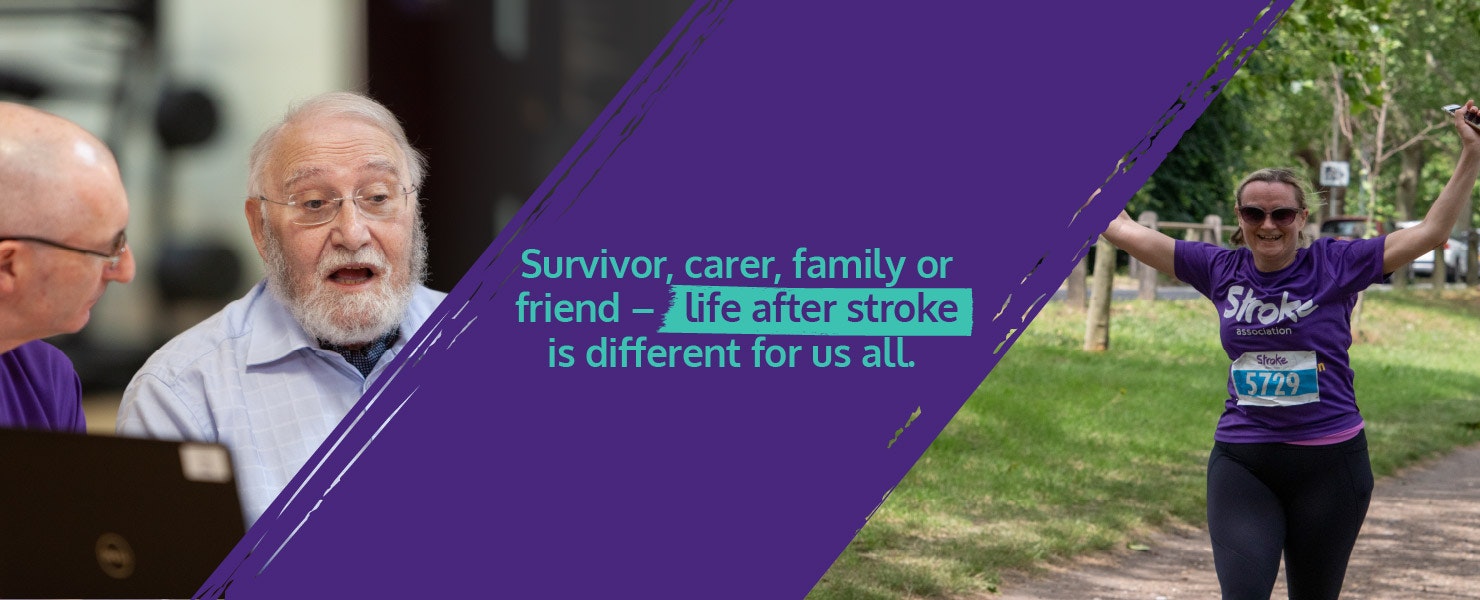 Frequently asked questions
About the Virtual Resolution
What is the Virtual Resolution Run?
Our Virtual Resolution Run gives you the opportunity to join the Resolution and set your own challenge.
You have the flexibility to take on your chosen distance any day, time and place that is most convenient for you. It could be at your local park, around the block with the dog or even in the comfort of your own home with your favourite film on in the background.
Whether you are a stroke survivor, carer, family or friend, there is one way we can stand together – help us rebuild lives by joining the Resolution.
What distances can I choose from?
You can choose any distance between 1K and 15K. Set yourself the challenge that's right for you.
Do I have to complete my Resolution by a certain date?
You can take on your challenge at any time throughout the year.
We are however encouraging as many of our Virtual Resolution Runners to take on their challenge on Sunday the 27th February 2021. We would love for everyone to come together on this day as one community to find a way through the research funding crisis.
I have completed my Virtual Resolution, how do I get my medal?
Medals will be sent out to participants who raise £100 or more and who have completed the event. On completion please send your evidence to resolution@stroke.org.uk and if you have raised £100 or more we will post you out a medal.
If you have not raised this amount and would still like a medal you can purchase one here for £5 plus £3.95 delivery.
Can I purchase merchandise?
Yes, branded merchandise can be bought during the online registration process or visiting the online shop.
Our shop includes:
·         Stroke technical running top - £10
·         Tritan water bottle - £8
·         Runner water bottle - £4
·         Medal – £5
Please allow up to 10 working days to receive this from date of purchase. All purchases will also incur a £3.95 delivery charge.
We're always careful to send the size requested at registration, but are really sorry if we've sent you the wrong size by mistake or if it's the size you ordered and it doesn't fit well. If that's the case, please contact our Supporter Care team at resolution@stroke.org.uk or 0300 330 0740 and they'll happily arrange a replacement.
What's the minimum sponsorship?
We recommend that participants set themselves a target of £100 to support the Stroke Associations work to rebuild more lives after stroke.
£100 could help us campaign for better stroke treatment in every town and make sure that the right support is available for every stroke survivor when they leave hospital.
Anything you raise will be greatly appreciated to support those affected by stroke. We will provide you with tips and advice along the way to support this. No matter how much you donate or raise in sponsorship, every penny really will make a huge difference to people affected by stroke.
As an extra thanks, those who raise £100 or more will receive a free branded water bottle to take with you on your challenge as well as a medal on completion to celebrate your achievement!
Will I receive a fundraising pack?
Everything you need will be included in your initial welcome email after registering for the virtual event.
This includes:
Key Information about how to take park
Resolution Run booklet - with top tips and information about the Stroke Association
Sponsorship form
Back sign - let us know why you have joined the Resolution
Picture a purple picture sweepstake activity
If you need any of these items re-sent to you or would like a physical copy, please contact our Supporter Care team at resolution@stroke.org.uk or 0300 330 0740.
How can I fundraise for my Resolution Run?
The easiest way to fundraise is by using your JustGiving page. A JustGiving page is a really easy way to get sponsorship from friends and family. The money comes straight to the charity so there is no faffing around chasing people for sponsorship!
Once your page is up and running you can boost your fundraising potential by personalising it. Tell people about your challenge and why you can chosen to support the Stroke Association, include photos and update the page regularly with your training progress. Make sure you email your page to family and friends and post it on social media or even have your fundraising page in your email signature.
How can I link Strava to my JustGiving page?
Linking Strava to your fundraising page lets your friends and family keep up to date on how your training is going and share your complete Resolution with them all. It's a great way to boost engagement with your page and get more sponsorship!
To set it up:
Login to your JustGiving account and view the fundraising page you wish to connect with. Scroll down slightly on your fundraising page and select the 'Connect Strava' button.
You'll then need to login to or register with Strava (it's free!).
Finally, confirm some Strava permissions and select and save your fitness settings/preferences.
For more information please visit JustGiving.
Contact us
If we haven't been able to answer your question then please get in touch:
About Resolution Run
About JustGiving
Email: help@justgiving.com
Chat to us: 9am-6pm, Monday-Saturday, from within your JustGiving account.